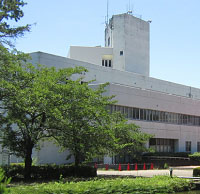 The College of Media Arts, Science and Technology is a science and technology based faculty with the aim of being a front-runner in creating a prosperous future for the information society. In our current era, computers and mobile devices connected to a global network enable anyone, anywhere, and at any time to disseminate information and interact with others. The explosive growth of this network has resulted in transformations in industries, businesses, education, culture, and everyday life, to a scale comparable to and even surpassing the Communication Revolution sparked by Gutenberg's movable type printing technology. The College of Media Arts, Science and Technology intends to foster engineers and researchers who will play a leading role in this era of change.
Two Keywords: Network Media and Content
The development of information media on the web has given birth to a technological means for creating a high level of diversity and freedom of expression and transmission to a degree that is incomparable with the past. It is now possible for non-professionals to utilize a wide variety of ways to create and disseminate a large amount of information (content) on a daily basis. Furthermore, networks that are supported by technology for the efficient transmission of such information have created an environment where members of the general public are able to make a significant impact on society.
The College of Media Arts, Science and Technology was established for the purpose of providing education starting from fundamentals in information and communication technology, leading to advanced topics in content technology for producing and utilizing content that flows through networks, and net-media technology for supporting the accumulation and flow of content. Our aim is not to raise creators who will work on generating the content itself; but to foster engineers and researchers who will make an impact on society through their technological and scientific achievements.